PR Week: The Marino Organization links up with European firms for global alliance
The Marino Organization has announced a newly formed partnership with three European public relations firms,Say What?,Porterfield PR, andStorm Communications, to form Crossborders Public Relations: A Global Alliance.  This business alliance will provide the firms with trusted resources overseas and allow for greater expansion in international markets.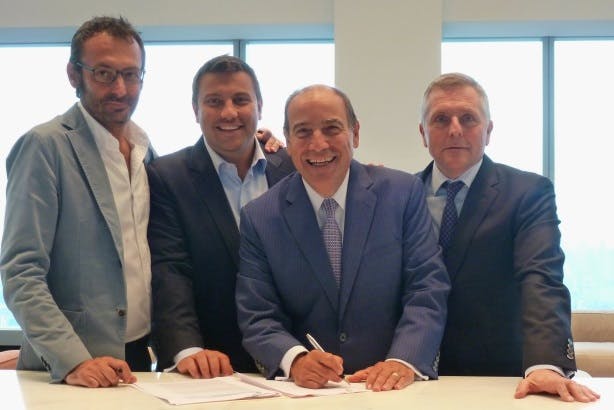 Lindsey Stein of PR Week covered the story:
NEW YORK: The Marino Organization has teamed up with Italian firm Say What? and London agencies Porterfield Public Relations and Storm Communications to form Crossborders Public Relations: A Global Alliance.
Through the strategic partnership, the firms will continue acting independently, but will collaborate and share resources on select clients. They will also potentially join forces to pitch for international business, explained Frank Marino, president, CEO, and founder of New York-based The Marino Organization.
"More and more businesses are realizing they can do business abroad and want to do it, so for us, it's a natural progression as an agency to be able to offer clients who have needs abroad to work with us directly [in New York] or through members of the alliance," said Marino.
He added that it's great to have people on the ground in Europe with strong local knowledge who can assist in client work.
The four firms making up Crossborders Public Relations have worked together in the past, said Marino, so they're familiar with each other's offerings, services, and areas of expertise.
While other PR networks exist in the UK, Storm CEO Derek Lowe said he was attracted to the Crossborders idea because he knows the agencies, which is a "great starting point" for a new collaboration.
Ian Purvis, CEO of Porterfield, said via email that several of the firm's clients are considering opportunities in North America, mainland Europe, and elsewhere internationally as the global real estate market continues to strengthen.
"We believe that by partnering with highly skilled and experienced local teams through this alliance we can maintain our renowned high quality service," Purvis added.
Representatives from Say What? were not immediately available for comment.
The group is looking to add agencies in a number of areas worldwide, including South America, the Middle East, Asia, and other parts of Europe, said Marino.
Lowe added that Crossborders will continue only bringing firms it is familiar with into the alliance.
All four agencies, Marino said, are serious about the alliance and have agreed to help one another right off the bat.
"This is not just to add something new to a business development folder," he said.
The Marino Organization has worked with many large companies since its inception in 1993, such as Walmart, The Home Depot, McDonald's, New York University, Colliers International, and Big Brothers Big Sisters of New York City.
Storm's client experience includes Cargill, EU Olives, Filippo Berio, Food and Drink Expo, KFC, Sara Lee, and Vitafoods, among others.
Say What? has worked with brands across all markets, from Coca-Cola Company and Procter & Gamble to Mastercard and Audi.
Porterfield's main areas of expertise sits within real estate, with companies on its rosters including Savills, JLL, Parkridge, Salmon Harvester, Redevco, Northwood Investors, Lumina Real Estate, Land Securities, and M&G Real Estate.
For the full article, click here.